Sowe­bio is a com­mu­ni­ca­tions agen­cy spe­cia­li­zed in digi­tal strategy.
Your com­mu­ni­ca­tions tools should always have a content stra­te­gy !
Communications Agency – Digital Strategy
Sowe­bio is a com­mu­ni­ca­tions agen­cy spe­cia­li­zed in digi­tal stra­te­gy and inbound mar­ke­ting. We part­ner with you to set up inter­nal and/or exter­nal com­mu­ni­ca­tions. We create and pro­mote your image, brand, ser­vices and pro­ducts. We are also experts in digi­tal mar­ke­ting, sys­tems and out­sour­cing – a skill­set that that makes Sowe­bio a dif­ferent kind of com­mu­ni­ca­tions consul­ting agen­cy. Since the begin­ning, Sowe­bio has always excel­led in the world of open-source soft­ware, which means we see your chal­lenges through a mar­ke­ting and com­mer­cial lens, plus we fac­tor in your IT archi­tec­ture and how it's used.
Web Agency – France and the world
We are based on Île d'O­lé­ron, France and our clients are loca­ted in France, Europe and around the world.
We offer the full-ser­vice Sowe­bio digi­tal stra­te­gy to busi­nesses, inde­pendent contrac­tors, mer­chants, arti­sans, free­lan­cers, and artists. We help them unders­tand inbound offers and mar­ke­ting – a mar­ke­ting stra­te­gy that brings cus­to­mers to their door. We strive to give you the keys to digi­tal mar­ke­ting and tech­niques that are usual­ly only reser­ved for large corporations.
Websites and Social Networks
Sowe­bio creates your brand, logos, online sto­re­front / e‑commerce web­site and social media accounts. We also feed and manage all of your content, from crea­ting new content to post­ing. Sowe­bio means end-to-end service.
We love what we do ! We each have our spe­cial­ty and push our team to achieve excel­lence. We like to explore new areas and change our pers­pec­tives. Our mee­tings are live­ly yet fun because our dif­fe­rences are our strengths ! We all share the Sowe­bio values.
Cus­to­mer Rela­tions : Sonia G.
IT : Sté­phane R.
Digi­tal mar­ke­ting : Anna B.
Digi­tal Pro­ject Mana­ger : Romuald S.
Pho­to­gra­phy : Nel­ly L.
Video – Sound Desi­gn, Com­po­si­tion : Julien G.
Scrip­ting and Sto­ry­tel­ling : Stef­fi J.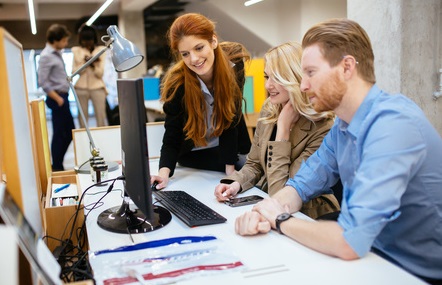 To honor our com­mit­ment to accoun­ta­bi­li­ty, trust, skill, and expertise
To work in PAER mode : Pre­pa­ra­tion, Action, Eva­lua­tion, Reaction !
"One impor­tant key to suc­cess is self-confi­dence.
An impor­tant key to self-confi­dence is pre­pa­ra­tion."
Arthur Ashe
Sowebio Communications Agency
Your local contact

Com­mu­ni­ca­tions agen­cy – Web­site crea­tion & Social Media Pages
Olé­ron, Nantes, Paris, Col­mar, France, Europe and around the world