Sowebio SARL
15, rue du Temple
17310 Saint-Pierre d'Oléron
France
RCS La Rochelle : 844 060 046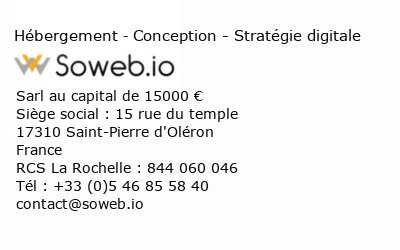 We manage the outsourcing of web hosting and associated services (email servers, cloud drives, statistical analysis, backups, supervision, etc.) with our own physical servers based cluster, ground up on our multi-domain expertise.
Sowebio's infrastructure is interconnected through a 2 Gbps private network dedicated to the company.
According to GDPR policy, Sowebio's servers are hosted exclusively in France (Gravelines, Paris, Roubaix, Strasbourg) and Europe (Frankfurt), in the OVHCloud datacenters, the leading European hosting company.
The infrastructure benefits from OVH's global black fiber optic network and more than 30 points of presence on the 4 main continents, as well as the most powerful distributed denial of service attack protection technology on the market.
Intellectual property rights
This Site and its components may contain confidential information or information protected by intellectual property or other applicable laws.
The intellectual property rights on the original content of this site are the exclusive property of the publisher. The user of the site is strictly prohibited from copying, modifying, creating a derivative work, assembling, decompiling, assigning, sublicensing or transferring, in any manner whatsoever, any element of this site.
Photos : Sonia Guiffès, Stéphane Rivière, Pixabay, Fotolia.